Tuesday, December 25, 2007
Tuesday, December 25, 2007
News
Tue, Dec 25, 2007
at
9:54 PM
"Ho ho ho, Bush must go! Santa wants peace for Christmas!" shouts the jolly guy on roller blades as he zips by the Hotdog on a Stick stand.
A nice lady who lives near Santa Monica's Chess Park lays a tin of Almond Roca next to Terry, who keeps his eyes on his game. Other homeless folks and chess junkies aren't shy.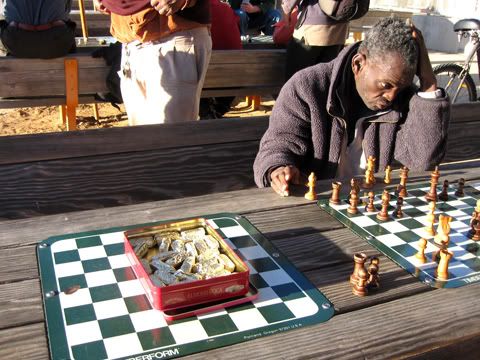 A couple gets cozy by the crashing waves.
Wednesday, December 19, 2007
Wednesday, December 19, 2007
Arts
Wed, Dec 19, 2007
at
8:28 AM
The Office Night

Upright Citizens Brigade, Theater, 12/18

Review and photos by Nicole Campos

(Right, Brent Forrester)
What nuggets of Dunder Mifflin-esque hilarity would ensue as cast members and writers of The Office stormed an extremely yuletidy stage (inherited from the evening's previous show) at the Upright Citizens Brigade Theatre? There seemed to be some confusion on the part of those I talked to earlier in the day, who seemingly assumed tonight's benefit for The Actor's Fund was akin to the New York UCB's recent live staging of SNL. Not quite; what was on the menu was a loose night standup in front of a small group of dedicated fans who, as writer Brent Forrester (emcee with the mostest) was keen to point out, would trek out in the rain for a late-night set (and huddle outside the tiny house's front door in the bitter cold until the early show let out) from their favorite sitcom's team.
(Ed Helms showing off his Brokaw)
Some of them, anyway… no Carell, no Wilson, although who needs them when you've got Ed Helms steamrolling through a short set that includes riffing on the heavily tinseled set and treating the room to one spectacular impression of Tom Brokaw nasally revealing his sexual predilections. (You could just see the glint in the eye, as though he'd always regretted he could never get away with that one on The Daily Show).
(Mindy Kaling)
Tuesday, December 18, 2007
Tuesday, December 18, 2007
Tue, Dec 18, 2007
at
3:25 PM
There will be an official 2007 wrap-up from Mr. Gold himself, but with the year drawing to a close, we wanted to do a quick re-cap of some of your favorite Counter Intelligence columns over the past year, based on traffic and reader feedback. We'll also throw in links to this year's restaurant special issues for your convenient bookmarking pleasure.
Crullers That Bloom in Spring: Time to see the Donut Man
March 21, 2007
(All Photos by Anne Fishbein)
Have you ever seen a strawberry doughnut from the Donut Man? It is an iceberg of a doughnut, a flattened demisphere big enough to use as a Pilates cushion, split in two and filled to order with what must be an entire basket of fresh strawberries, and only in season. The fruit is moistened with a translucent gel that lubricates even the occasional white-shouldered berry with a mantle of slippery sweetness, oozing from the sides, turning the bottom of the pasteboard box into a sugary miasma in the unlikely event that the doughnuts actually make it home. The tawny pastry itself is only lightly sweetened, dense and slightly crunchy at the outside, like most good doughnuts, with a vaguely oily nuttiness and an almost substantial chew. It is the only doughnut I have ever seen that is routinely served with a plastic knife and fork. It is worth every penny of the $2.50 it costs. Click here to read the rest of the article.
Do Fries Go With That Ube Shake? André Guerrero's pastrami lessons at The Oinkster
April 18, 2007
The center of Belgian fries in Los Angeles at the moment is probably The Oinkster, a converted Eagle Rock joint saturated with the smell of wood smoke, a formidable, fragrant blast drifting from a restaurant that until recently was a branch of the Jim's chain, red roof gleaming in the late-afternoon sun — smoke that just happens to be flavoring Carolina-style pork barbecue and what is probably the only house-smoked pastrami currently being sold within the Los Angeles city limits.
The Oinkster is the newest child of André Guerrero, who has been chef of Max and Señor Fred and a lot of long-gone places that you'd recognize if you used to read Kathie Jenkins' old restaurant-news column in the L.A. Times. Oinkster is a perfected fast-food restaurant, the old-school paradigm of pastrami, burgers and chicken reinvented for a new age when a remodeled hamburger hut can be enjoyed for the stark loveliness of its mid-century modern architecture and nobody thinks it odd that a famous chef might seek an apprenticeship with a revered deli counterman. Click here to read the rest of the article.
Noodles With Attitude: Ramen as high art at Santouka
Jan. 24, 2007
(All photos by Anne Fishbein)
What you get at Santouka is ramen, or more specifically shio ramen, thin, squiggly noodles, a bit chewier than you might expect, served in a boiling-hot pork broth minimally seasoned with salt. Floating among the noodles will be a bit of seaweed, a pinch of chopped green onion and a thin round of bland fishcake decorated with a swirl of Barbie-box pink. There are three slices of pork — one, two, three — each a sort of Oldsmobile brown and edged with a generous layer of pale fat. At the exact middle point of the bowl, so precisely placed that I wouldn't be surprised if there were a centering device back in the kitchen, is a single scarlet pickle, the size of a scarlet pea, probably chosen for its vivid color as much as for its pinprick of acidity, the dot over the "i" that brings the entire composition into focus. Santouka's shio ramen is a considered work of art.
Still, the restaurant's aesthetic may not be your own. Where the basic broth at Little Tokyo's Daikokuya is a lush thing, paled by the proteins of the Kurobuta pork bones at its base and oozing the mellow essence of pig and garlic, Santouka's is a sharper-tasting liquid, slightly milky, resonant with the defined funk of pork that has been cooked a few degrees past well-done. Click here to read the rest of the article
Hot From the Kitchen: Dim sum without the carts
Jan. 10, 2007
A great dim sum meal is the closest that restaurant-going comes to a fever dream, an endless pageant of tin trays, ceramic plates and stainless-steel baskets, circles of bamboo and deep ceramic vessels, processions of boiled vegetables, simmered viscera and floppy noodles that continue until you surrender, leaving you surrounded with what looks like the leavings of a thousand meals: steamers piled high, dumpling remnants underfoot, bones and chewed cartilage and ruined carapaces of a dozen undersea creatures. You call a halt to the feast not by politely signaling to the servers, who will keep offering you food even when your table is a foot deep in shrimp shells, but by waving to a headwaiter across the room like a drowning man begging for a life preserver.
At The Kitchen, a new, Hong Kong–style Alhambra restaurant spun off from a successful Millbrae original, the onslaught of dreamy pleasure is complete. Well before you have ticked off your selections on the written dim sum menu, your table is surrounded by waitresses bearing trays — hot, delicious-smelling trays straight from the kitchen, laden with crisp, deep-fried nests of shredded taro that conceal tiny hard-boiled quail eggs at their core; sticky rice noodles wrapped around fried Chinese crullers; and hollow globes of pounded sticky rice, tinted kelly green with powdered tea, encapsulating sweet bean paste. Click here to read the rest of the article.
Wednesday, December 5, 2007
Wednesday, December 5, 2007
Arts
Wed, Dec 5, 2007
at
7:59 AM
On May 5, 1989 the L.A. Weekly printed a cover story, written by Jonathan Gold, about N.W.A., the most notorious band in the U.S., let alone in Los Angeles.
Twenty years after the release of their first album, N.W.A and the Posse, we are happy to present Jonathan Gold's article online.
(Cover photo by Howard Rosenberg)
August '88: Eazy E props his Air Jordans up on a desk, stares at the ceiling, and leaves the room whenever the beeper on his belt goes off, which is often. He answers most of the reporter's questions with a noncommittal mmmmm; he could as well be talking to a parole officer as a writer from the slicks. Eazy's group N.W.A -- Niggas With Attitude -- has just finished mixing down "Gangsta Gangsta," a breathtakingly violent, vulgar gangster-rap jam that is their first single in more than a year. In the office of the record company president, Dre, the producer, slaps in a tape; it's the first time anybody has heard the song outside the studio. Ice Cube's angry voice cuts through the room over a funky Steve Arrington guitar riff: "...Out the door, but we don't quit./Ren said, 'Let's start some shit.'/I got a shotgun, and here's the plot:/Takin' niggas out with a flurry of buckshot..."
Fifteen sets of jaws go slack, including their manager's, their publicist's, and the president's. Fifteen sets of eyes stare at the carpet, the ceiling, the California Raisins gold records on the walls, anywhere but the cassette deck. The white people look shocked, the black people embarrassed. A drive-time jock rubs his temple hard. One promotion guy cackles in the corner, muttering, "I love to work dirty records. I love to work dirty records." Eazy smirks. The hooks are tight, the rhymes are tough, the rapping right on key -- it's a perfect hardcore rap track... and unthinkable.